ALERT: Federal judge restores early voting in Ohio
See on Scoop.it – My Liberal Politics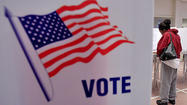 by DAVID G. SAVAGE
A federal judge ordered the battleground state of Ohio to open its polling places three days before the Nov. 6 election, giving a victory to the Obama campaign and marking the sixth ruling in recent weeks to block or void new voting rules set by Republican-dominated state legislatures.
Friday's decision restores early voting on the final weekend and Monday before election day, a time when more than 93,000 Ohio voters cast ballots in 2008.
Last week, a three-judge court restored weekend early voting in parts of Florida that are subject to the Voting Rights Act. And on Wednesday, another Florida judge voided part of a state law that would have prevented groups such as the League of Women Voters from registering new voters.
A Texas law was dealt two setbacks earlier this week when federal judges in Washington struck down a strict new photo identification requirement and threw out election districts that undercut the voting power of Latinos and blacks. [MORE]
See on www.latimes.com